Blog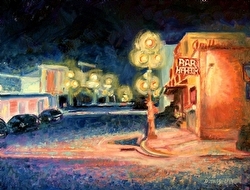 BAR HARBOR, Harbor Springs, Michigan is one of this area's favorite haunts for a beer and a burger. On a corner across from a marina, this Michigan hangout is not one to miss when in Northwest Michigan.
I painted this scene of the Bar Harbor because it appealed to me as a night scene. It took on it's own atmosphere and the Spirit of the Night! There will be more NIGHT Michigan paintings available here so stay tuned for more. Maybe a couple of sailors would have have made a nice addition to this.
Whether you are in a small Lake Michigan Shore town or off the beaten track, Michigan has lots of local places for great food and beverages. These places can add a lot of color to your Michigan adventure. I've even spotted a few artists in the BAR HARBOR of Harbor Springs!!